Information handouts
Click on the following titles to get the full documents: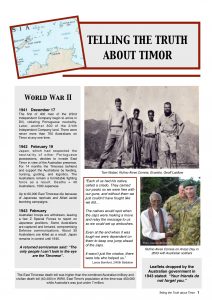 Timor Saga #1
These Charges Must be Dropped
Timor Sea Justice Forum Media Release 10 September 2018
Handout – Canberra Lawyer Faces Charges
3. A 4 Handout – Australia spied on friends
4. A5 handout – Witness K and Bernard Collaery
Secrets, Spies and Trials
Watch the ABC Four Corners episode of 26 August 2019 which explains the spying and the prosecution of Witness K and Bernard Collaery.
Material from the International Court of Justice on the seizure of documents and the injunction for Australia not to use them:
ICJ Press Release 20 December 2013
ICJ Press release 3 March 2014
International Court of Justice Awards Timor-Leste Provisional Measures
Timor-Leste Government – Press Release – 4 March 2014
Senate: Committee of Privileges – Person Referred to: Bernard Collaery May 2014
"I spy something beginning with K"
Report of event hosted by Robertson O'Gorman Solicitors in Brisbane 29 October 2019 (pdf)
Here's another petition which has almost 40,000 signatures. PLEASE SIGN
A Letter of Support was sent to Witness K and Bernard Collaery on 5 August  2019
Gareth Smith's petition is worth signing.
Watch Juice Media's  "Welcome to Timor-Leste" (2 and a half minutes).
Bernard Collaery was interviewed by Linda Mottram on 5 June 2019.
The link takes you to the recording and the transcript.
Click here for Drop the Case. It is in the series "Writing Rings for Righting Wrongs".
Read here a report of Bernard Collaery's launching of Clinton Fernandes' book "Island off the Coast of Asia" on 13 April 2019.
Here is Richard Ackland's comment on the launch in "The Saturday Paper" 20 April 2019.
Witness K: Blowing the whistle on the grab for Timor's oil
David Dixon and Paul Cleary, 13 September 2018 Sydney University