Witness K and Bernard Collaery – Information material
Senate Inquiry Submissions
A 2019 Senate Inquiry is investigating Australia's withdrawal from UN oversight of maritime boundary negotiations in 2002.  This withdrawal had direct bearing on subsequent unfair treatment of Timor-Leste.
Secrets, Spies and Trials
Watch the ABC Four Corners episode of 26 August 2019 which explains the spying and the prosecution of Witness K and Bernard Collaery.
Material from the International Court of Justice on the seizure of documents and the injunction for Australia not to use them:
ICJ Press Release 20 December 2013
ICJ Press release 3 March 2014
International Court of Justice Awards Timor-Leste Provisional Measures
Timor-Leste Government – Press Release – 4 March 2014
Senate: Committee of Privileges – Person Referred to: Bernard Collaery May 2014
Click on the following titles to get the full documents: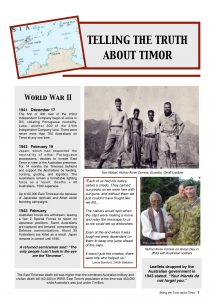 Timor Saga #1
These Charges Must be Dropped
Timor Sea Justice Forum Media Release 10 September 2018
Handout – Canberra Lawyer Faces Charges
3. A 4 Handout – Australia spied on friends
4. A5 handout – Witness K and Bernard Collaery